I do not remember the first time I saw Tina Fey on television, but I do remember that every single time I have ever seen Fey on my screen I have connected deeply with her and her work.
I identify with Fey more than any leading lady in a Hollywood romantic comedy or action thriller. I know that in life I will never play the part of some tiny pretty thing. What I really connect with is Fey's humor, humor that I most certainly first encountered on the great Saturday Night Live.
Humor, and humorous writing specifically, lies as a long lofty goal that I someday hope to reach. Occasionally doubtful thoughts fill my mind. I didn't follow the convential career path of a comedy writer (if there is one). I don't have the connections. I have a long way to go. Yet, people like Fey inspire me daily because they admit to their own previous doubts, things that could have held them back, but didn't because of hard work and opportunity.
Without Saturday Night Live, I and so many others may not have ever seen Fey's face on screen. In fact, Fey had her own doubts about making it in the industry as an actor: "Maybe on some level I knew I'd get eaten alive in L.A., because it's a place for very good-looking people." Even though she knew she had what it took to work from behind the camera, she also knew she did not meet Hollywood's beauty standards. As talented of a writer as Fey was, she knew she would have to find an unconventional way to the top and in front of the lens.
After graduating college, Fey headed to Chicago and began courses at the Second City, an improvisation comedy troupe. That gig led her to an even bigger one with SNL.
Fey was not the first, nor will she be the last, of SNL's performers to make it big. SNL was her unconventional way to the top, as it was for many of her peers. In fact, the show has propelled many successful comedians to have even more successful acting careers, regardless of industry stereotypes.
Amy Poehler, another cast member and close friend of Fey's, also found SNL as a way to push past cultural norms, especially in regards to beauty: "Once I decided that, then it was freeing — not only for my work, because vanity is a tough thing to have in comedy — but I didn't care as much if people thought I was pretty or not pretty."
Perhaps what is greatest about SNL is what I connect most to in the show – a place for unconventional people to grow and get better. SNL Alum Tim Meadows shared my sentiments saying,  "I think also a show like SNL develops comedy talent that lets people go on to do bigger and better things… It provides an opportunity for comics and artists and filmmakers and writers, to get better at their craft."
I know that some of my gifts, my talents, and my history make me a less conventional choice for my passions, and yet my passions remain. SNL, and its people, give me hope that there are great places that foster the unconventional.
SNL can teach an important lesson to all of us. We need to drop the conventional standards of society and subscribe to talent and to patience. We need to embrace what each person brings to the table and use it to move us, as a whole, forward.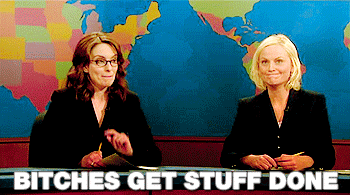 ---